ARMONK, NY - 22 May 2008: IBM (NYSE: IBM) today announced the Carbon Tradeoff Modeler, a first-of-a-kind tool that enables organizations to analyze and manage the climate impact of their supply chains. The tool allows organizations to understand the outcome of critical tradeoffs to make smarter energy choices and better economic decisions by optimizing on service levels, quality, cost, and carbon dioxide emissions.
Developed by IBM Research and IBM Global Business Services, the Carbon Tradeoff Modeler models the complex interaction of factors driving supply chain carbon dioxide (CO2) emissions from both a manufacturing and distribution perspective. It can also quantify the tradeoffs between CO2 emissions reductions and other supply chain metrics such as inventory levels, and on-time delivery. IBM's Carbon Management Analysis Tool also identifies areas where carbon dioxide emissions and costs can be reduced simultaneously.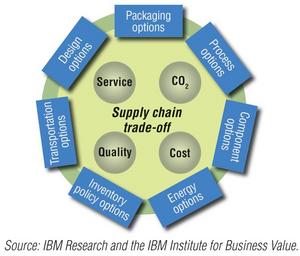 A trade-off model takes into account various options and performance factors.


Carbon's impact on shipment scenarios.
According to the 2008 IBM Global CEO Study and a separate IBM study, corporate social responsibility (CSR) is at the top of the agenda for chief executives, and is fast becoming a revenue growth platform for businesses, as customers increasingly demand transparency and accountability from organizations they conduct business with. With the automated Carbon Tradeoff Modeler, organizations can incorporate carbon reduction into their overall CSR strategy, to reduce their carbon emissions and potentially strengthen their brand to gain a competitive advantage. This is an example of IBM's focus on higher value services and innovative solutions to address client needs.
"To achieve a carbon efficient supply chain, companies need to assess the CO2 emissions impact of their end-to-end operations," said Sanjeev Nagrath, Global Leader, Supply Chain Management, IBM Global Business Services. "By incorporating Research-based tools to model the cost and carbon impact of key steps in the supply chain, organizations now can take action to reduce CO2 emissions and influence suppliers' behavior toward reducing their own greenhouse gas emissions."
IBM's carbon management analysis tool models the cost and carbon impact of several key levers and provides insights for balancing cost and carbon management objectives. Key factors the tool captures include: packaging options, alternative operational processes, alternative transportation modes and energy sources, inventory policies, and sourcing policies. The Carbon Management Analysis Tool can identify and recommend the most desirable actions to take among the many that can be used to achieve carbon dioxide emissions reduction.
For example, shipment and package consolidation is one of the major opportunities to reduce CO2 emissions. Quantifying the impact of shipment frequency on cost and emissions can help establish a more energy efficient inventory replenishment policy. Some levers such as better routing can create a win-win case for reducing both CO2 emissions and cost in the supply chain.
Some of the issues that the tool addresses include:
The impact on cost and carbon dioxide emissions when changing package sizes and/or packaging materials
The impact of lot sizes on transportation requirements, cost and carbon dioxide emissions
The impact of consolidating orders to reduce the carbon dioxide emissions in transportation as well as on-time delivery performance
How inventory replenishment policies can influence carbon dioxide emissions.
How to evaluate alternative supply policies in terms of cost and climate impact in the supply chain
In addition, IBM released today further analysis from the Institute for Business Value, entitled "Mastering Carbon Management." The paper emphasizes how carbon management, energy consumption and other environmental issues should be analysed and approached in an integrated manner -- evaluating overall performance goals (cost, service, quality and carbon dioxide emissions) in terms of their relationship to one another. A trade-off model looks at these areas and considers relevant factors such as design, packaging and processes. These options represent the "levers" available to influence cost, quality and service, as well as greenhouse gas (GHG) emissions.
There are specific steps companies can take to limit GHG emissions -- from easy-to-implement local improvements to complex optimizations that involve an extended supply chain. The further these activities extend and integrate across the supply chain, the greater leverage and control they will have over carbon dioxide emissions. IBM therefore recommends a step-wise approach:
Strategy: Diagnose, assess, plan and operationalize
Carbon asset (facility) management: Implement asset management and realize point solutions
Functional Optimization: Address emissions in supply chain functions
Internal Horizontal Integration: Find the optimum solution for integrating across functions
Collaborative, end-to-end Optimization: Collaborate with supply chain partners to realize overall potential
For more details on the "five steps to mastering carbon in the supply chain" and the complete IBM Global Business Services Paper on Mastering Carbon Management please visit www.ibm.com/gbs/supplychain
About IBM
For more information visit www.ibm.com.
Related XML feeds
Topics
XML feeds
Research
Chemistry, computer science, electrical engineering, materials and mathematical sciences, physics and services science
Services and solutions