ARMONK, NY and EDINBURGH, SCOTLAND - 03 Apr 2008: Researchers at the University of Edinburgh and IBM's (NYSE: IBM) TJ Watson Research Center today announced a five-year joint research project to use supercomputing simulations combined with lab experiments to speed the design of drugs aimed at inhibiting infection by the HIV virus.
The project includes powerful computing technology, including IBM's Blue Gene supercomputer, combined with new experimental characterization aimed at targeting the infection process itself by designing inhibitors for the part of the virus responsible for allowing the virus' genetic material to enter the human cell.
The new aspect of the collaboration is its attempt to design simultaneously multiple inhibitors and to thereby prevent the cagey virus from mutating and thereby invalidating the drug therapy as it does with single inhibitors.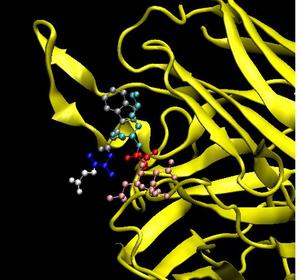 Researchers from IBM's TJ Watson Research Center and the University of Edinburgh announced a five-year joint research project to use supercomputing simulations combined with lab experiments to speed the design of drugs aimed at inhibiting infection by the HIV virus. This image represents a small segment of the HIV viral protein bound to a human antibody molecule, shown in yellow.
"Our early results are promising, showing that we can use computers to simulate which molecules can stop the HIV virus from infecting humans, which drug makers could then use to more rapidly develop those drugs," said Jason Crain, of the University of Edinburgh's School of Physics and Divisional Head of Science at the National Physical Laboratory in the UK. "This is a new approach to drug design -- we are using sophisticated algorithms coupled with experimental techniques to design improved molecular therapies, and we can capitalize on enormous computing power to do this efficiently and rationally."
The project is focused on how the human HIV-1 virus attaches to cells in the body and injects its genetic material. Researchers are examining a fragment of the surface protein of the virus, known as a peptide, which is crucial in stimulating the body's immune response to viral attack. Understanding the structure and behavior of the peptide will allow for multiple drugs to be designed simultaneously capable of targeting the infection process.
"One of the great challenges in the medical community is to find a vaccine for the HIV virus," said IBM Researcher Glenn Martyna. "By combining the experimental research of University of Edinburgh and the simulation capabilities of the world's most powerful supercomputer, IBM's Blue Gene, we just might get much closer to that goal."
The University of Edinburgh is at the forefront of advances in high performance computing and provides the widest range of supercomputer facilities of any university in Europe. In 2004, the University installed the first IBM Blue Gene supercomputer in Europe in an effort to help researchers throughout Britain tackle some of the most challenging puzzles in science.
In partnership with IBM this novel collaboration uses new atomistic simulation methods and software run on IBM massively parallel BlueGene/L supercomputer, in conjunction with high accuracy experimental techniques, to probe the properties of amino acids and small peptides, the building blocks of proteins, which are key to novel antiviral therapy based on the simultaneous development of multiple targets.
In the middle of his Scotland Week programme in America, First Minister Alex Salmond said this sort of collaboration was just the sort of thing the Scottish Government was trying to encourage through its activities in North America. Mr. Salmond said:
"I am delighted that through the efforts of Scottish Enterprise and Scottish Development International, we have been able to play a part in bringing this exciting project to the key stage it's at now. This week I'm in America leading the Scotland Week activities to promote business, academic and cultural links between our two countries.
"This life sciences collaboration, between one of Scotland's leading universities and one of America's biggest corporations, is a first class and positive example of the sort of connections we are trying hard to encourage and support."
In the past several years, IBM next generation massively parallel supercomputers have dominated the top 500 list. The use of these machines and development of yet faster, larger models hinges on continuous development of methods and algorithms that work well on these challenging architectures.
In another initiative dedicated to the global fight against HIV, IBM's Haifa Research Laboratories and a group of European partners last year developed an integrated system for anti-HIV treatment called EUResist. Enabled by the integration of comprehensive databases, advanced data analytics and prediction tools, the system can forecast how genetic HIV variants will respond to specific antiretroviral treatments. It can therefore help doctors to choose the most effective drugs and drug combinations for their HIV patients.
Related XML feeds
Topics
XML feeds
Healthcare and Life Sciences
News about IBM solutions for the healthcare and life sciences industries
Research
Chemistry, computer science, electrical engineering, materials and mathematical sciences, physics and services science