ARMONK, NY & SUNNYVALE, CA - 13 Dec 2006: IBM (NYSE: IBM) and Yahoo! Inc. (NASDAQ: YHOO) today introduced new, free enterprise search software with Web search services powered by Yahoo! that enables departments and businesses of all sizes to quickly and easily find, access and capitalize on information stored within organizations and across the Web.
IBM OmniFind Yahoo! Edition is a no-cost, entry level enterprise search product developed to help eliminate financial and technology barriers to intranet and Web search. Unlike other enterprise search solutions that can cost thousands of dollars to purchase and implement, the new offering from IBM with Web search services powered by Yahoo! can be downloaded for free and is simple to install and use with existing hardware.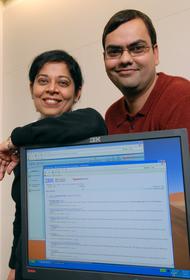 (Click here for details)
Madhu Kochar and Amit Somani,
software developers at IBM, show
off new search software available for
free from IBM and Yahoo! that
helps organizations of all sizes
find and access information
stored within their business
and across the Web. (Photo/IBM)
"Together, IBM and Yahoo! are delivering on the promise of making information easier to find, use and share while providing a better search experience for users," said Eckart Walther, vice president of product management for Yahoo! Search. "This is a valuable tool for helping organizations improve employee productivity by enabling them to more quickly find needed information. By empowering customers and partners to quickly find information on the Web, we're also able to reduce their support costs."
This announcement supports IBM's company-wide Information on Demand strategy aimed at helping clients of all sizes unblock the barriers to using information as a strategic asset. By enabling organizations to more easily take advantage of enterprise and Web search, IBM and Yahoo! are helping organizations improve access to information, gain new business insight, and create new opportunities for the use of information no matter where it is found.
"Organizations of all sizes are faced with the problem of too much information residing in different locations and in different formats, making it nearly impossible to quickly extract meaning," said Ambuj Goyal, general manager, IBM Information Management, IBM Software Group. "IBM and Yahoo! are bringing clients closer to the reality of being able to use all of their information and analyze it to resolve customer issues, spot trends, recognize business opportunities and become more flexible."
With support for up to 500,000 documents per server, more than 200 file types and documents in more than 30 languages, IBM OmniFind Yahoo! Edition offers a unique combination of simplicity, openness, and functionality. It features a three-click installation process and takes customers only minutes to go from download to live search and information access. IBM OmniFind Yahoo! Edition also uses the open source Lucene indexing library to provide cross-platform full text indexing.
IBM OmniFind Yahoo! Edition offers advanced features such as automatic spell correction, support for synonyms and shortcuts, wildcard support to substitute for unknown characters, query reporting, and graphical user interface customization. In addition, it is fully integrated with Yahoo! Search, providing one-click access to send queries to Yahoo! web, image, video, audio, directory, local and news search services.
The new software announced today complements IBM's existing OmniFind search and content discovery software. It provides a no-cost entry point for clients who want to get started with basic search but might have future needs for advanced secured search, or capabilities beyond traditional search such as business analytics, quality insight reporting, e-commerce or customer service self-help, or who want to leverage their unstructured information more broadly as a service throughout the enterprise. IBM OmniFind Yahoo! Edition is available at no charge and can be downloaded at http://omnifind.ibm.yahoo.com. Worldwide, enterprise-class phone support is available from IBM.
About IBM
For more information on IBM Content Discovery Solutions, visit http://www.ibm.com/software/data/enterprise-search/.
About Yahoo!
Yahoo! Inc. is a leading global Internet brand and one of the most trafficked Internet destinations worldwide. Yahoo! seeks to provide online products and services essential to consumers' lives, and offers a full range of tools and marketing solutions for businesses to connect with Internet users around the world. Yahoo! is headquartered in Sunnyvale, California.
IBM and the IBM e-business logo are trademarks or registered trademarks of International Business Machines Corporation.
For a list of additional IBM trademarks, please see www.ibm.com/legal/copytrade.shtml
Related XML feeds
Topics
XML feeds
Software
Information Management, Lotus, Tivoli, Rational, WebSphere, Open standards, open source