NEW YORK, NY - 29 Sep 2006: What:

Twenty years ago, IBM (NYSE: IBM) scientists Gerd Binnig and Heinrich Rohrer were awarded the Nobel Prize in physics for inventing the Scanning Tunneling Microscope (STM). The STM quickly led to waves of breakthroughs in materials science for new computer chips by allowing, for the first time, the observation and manipulation of materials at the atomic scale. Now, IBM is opening up its labs used to study the science of the small by allowing NextFest attendees to control the STM themselves and move atoms around on a surface, employing a technique used by IBM Fellow Don Eigler to move Xenon atoms on a nickel surface to create what may be the world's tiniest corporate logo "I-B-M" out of individual Xenon atoms in 1989.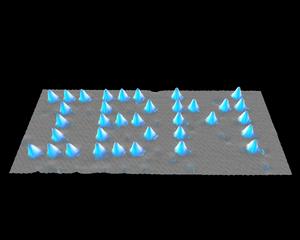 BUILDING AT THE ATOMIC LEVEL: At Wired's NextFest in New
York this weekend, children of all ages will have the chance to move
individual atoms over the Internet by taking control of IBM's Scanning
Tunneling Microscope, which won IBM scientists the Nobel Prize in
physics twenty years ago and was later used to create the world's
tiniest corporate logo, spelled out in Xenon atoms (pictured).
When: Friday, September 29 through Sunday, October 1, 2006
Where: Wired's NextFest (http://www.nextfest.net/)
Javits Center
11th Avenue at W 39th Street
New York, NY Booth 1004, in the "Exploration" Area
(between the NASA and Virgin Galactic exhibitions)
IBM Research is the leading innovator in discovering and developing new materials, processes and devices for use in future information technology hardware. As existing electronic circuit features shrink toward atomic dimensions, IBM researchers are exploring a variety of promising nanotechnology extensions and successors to current chip design and fabrication techniques. They are also developing new tools to gain a fundamental understanding of important new properties and phenomena that reveal themselves only at such small length scales.
For more information on IBM's nanotechnology and nanoscience research, please see: www.research.ibm.com
Related XML feeds
Topics
XML feeds
Research
Chemistry, computer science, electrical engineering, materials and mathematical sciences, physics and services science